This fresh from the garden salad is full of flavour and fresh zesty goodness.  Combine fresh figs with the tartness of lemon zest and lemon juice with the sweet acidic zing of balsamic vinegar and the fresh notes of extra virgin oil olive.  Roughly torn mozzarella comes alive and combines well with the mint fresh from the garden.  Peppery wild rocket adds a burst of flavour and strips of Serrano ham brings a luxurious taste to this bursting with flavour summer salad.
Our Lemon Balsamic Marinated Fig Salad uses fresh figs from the garden and combines them with zesty lemon and balsamic vinegar marinade.   Other fresh ingredients that we use include homegrown rocket and homegrown mint.  
THIS POST MAY CONTAIN COMPENSATED AND AFFILIATE LINKS. MORE INFORMATION IN OUR DISCLAIMER
Lemon Balsamic Marinated Fig Salad Details
Combine sweet fresh figs with zesty lemon and balsamic vinegar served with minted mozzarella, rocket and Serrano ham.
Lemon Balsamic Marinated Fig Salad with Serrano Ham Ingredients
6 ripe figs – washed and trimmed of their stalks
The zest and juice of one lemon
3 tablespoons of balsamic vinegar
1 ½ tablespoon of extra virgin olive oil
5 grams of fresh mint – roughly chopped
300 grams of mozzarella roughly torn
75 grams of wild rocket
4 slices of Serrano ham.
Equipment you'll need to make this salad
You'll find all the equipment to make this marinated fig salad with serrano ham in our kitchen essentials list here.
Marinated Fig Salad with Serrano Ham Method
Wash the figs and trim them of their stalks.  Cut the figs (lengthways) into quarters and place in a dish.
Now sprinkle the freshly cut figs with the lemon zest.
In a jug or bowl whisk the lemon juice, balsamic vinegar and olive oil, then pour over the figs.  Cover and leave to stand for about 45 minutes to marinate.
Meanwhile, roughly chop the mint and tear the mozzarella, mix together and cover.  Leave in the fridge until the 45 minutes is up.
Serve rocket on each individual dish, stand the figs up and arrange the torn mozzarella around it, drape the serrano ham over and drizzle with the leftover marinade.
Details
Fig preparation is simple – pick the freshest figs, wash and de-stem them, then cut into quarters, lengthways.
Zest your lemon and sprinkle the zest on the figs in a bowl.
Whisk lemon juice, olive oil and balsamic vinegar together and pour over the figs.   Then you want to leave this to marinate for about 45 minutes. This will give you ample time to roughly chop your mint (here's our guide to growing mint from cuttings) and mozzarella and mix together and leave in the fridge until your 45 minutes is up.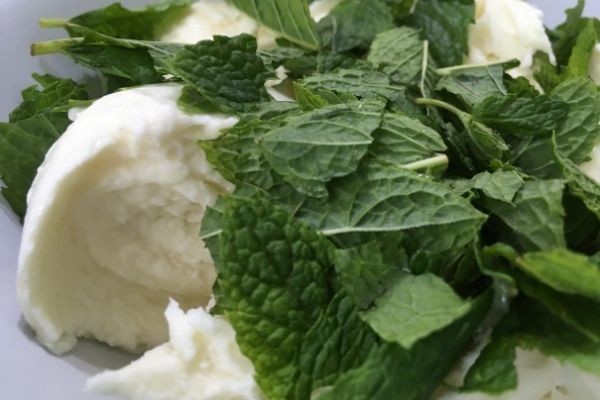 How you serve this delicious marinated fig salad is a personal choice – we choose a bed of homegrown rocket, on which we stand the figs up and arrange with the mozzarella.  We've sliced our Serrano ham and draped it over the salad and then drizzled it with the leftover marinade.  Delicious!
We also serve with a freshly baked baguette to mop up the delicious marinade.  These portions are great for a light lunchtime meal for two.
This fig salad recipe is seriously easy to make and tastes so fresh and zesty.  We love the extra flavour combo of the minty mozzarella alongside the lemon and balsamic!  Try it and let us know what you think!
Enjoy these other recipes from Lets Grow Cook
LetsGrowCook is a participant in the Amazon Services LLC Associates Program, an affiliate advertising program designed to provide a means for sites to earn advertising fees by advertising and linking to amazon.com, amazon.co.uk, amazon.ca. Amazon and the Amazon logo are trademarks of Amazon.com, Inc. or its affiliates